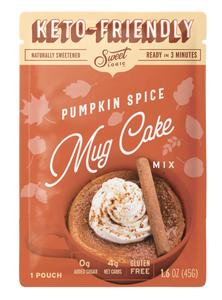 Pumpkin Spice Mug Cake Pouch
Regular price
Sale price
$3.60
---
Fall is here and so is our Pumpkin Spice Keto Mug Cake. Get it while you can because these are a seasonal flavor that won't hang around for long. Sweet Pumpkin and spicy cinnamon and nutmeg will make this one of your fall favorites. Low carb mug cake in front of an open fire sounds like the recipe for one sweet evening. 
◆ LOW CARB ◆

Our Keto Pumpkin Spice Mug Cake Dessert is designed with your nutrition in mind. We know you need to watch how many carbohydrates you take in each day so you can stay in ketosis. That's why these tasty keto sweets only have 4g of net carbs per cake. We made it a generous portion suitable for 2 people but these sweet treats are so good you won't want to share!

◆ALL NATURAL INGREDIENTS FOR YOUR LIFESTYLE ◆

These Keto sweets are Keto approved, Paleo Friendly and Gluten Free. We know it can be hard to find Keto snacks that fit your lifestyle and that's why we only use ingredients that you'll recognize. We keep it simple, sweet, and delicious so you can enjoy these keto desserts guilt free. 

◆ READY FAST ◆

We know that you are busy. You don't want to spend your time trying to follow a keto recipe and baking cookies or making a keto cake. You want something delicious and on hand that can be ready when you feel that sugar craving strike. Keep these low carb Pumpkin Spice Mug Cake Desserts in your pantry and you can have dessert ready in 1 minute flat. Just add 2 tablespoons melted butter or oil to a mug, stir in Primal Noms mug cake mix, crack one egg and microwave for 60 seconds. 

◆ NOT LIKE OTHER LOW CARB DESSERTS ◆

Our product is delicious and moist. No weird sweetener aftertastes or dry as a bone cardboard tasting snacks. These mug cakes emerge from the microwave just as you would want a cake to... Light and fluffy with a balanced sweetness and amazing flavor.

◆ HEALTHY KETO SNACKS ◆

Feel great knowing this dessert is packed full of good fats and protein. Just the right Keto macros to satiate your sweet tooth and keep you fueled. 
Nutrition Information: is "As Prepared" Including both Butter and Egg
Ingredients: Almond Flour, Allulose*, Dried Pumpkin, Coconut Flour, Pumpkin Pie Spice, Baking Powder, Salt, Stevia
Allergens: Produced in a facility that processes soy, dairy, gluten, and tree nuts
Directions: 
Melt 2 TBSP of butter in a mug (or use your preferred oil if dairy-free)
Pour in your Mug Cake Mix
Add 1 Large egg
Mix well with a fork (the better mixed the better the cake!)
Microwave for 1 minute to 1:30 depending on your microwave
Enjoy! (don't forget to snap a pic and tag us on IG to enter to win a free 5 pack each month!)
*We use Allulose in our products. Allulose (D-Psicose) is a rare sugar that is found in nature in small quantities in things like figs and dates. Allulose is required by the FDA to be listed as a carbohydrate because its structure is more similar to sugar than it is to a sugar alcohol. However, it behaves just like a sugar alcohol in the body in that it is not metabolized and doesn't raise Insulin. We use 14g of Allulose in this mug cake so the net carbs would be calculated by taking the total carbs (28g) - Fiber (4g) - Allulose (20g) = 4g Net Carbs.
See more Allulose information: Allulose Side Effects: Pros and Cons